Delticom efficiency index
The efficiency class label evaluated based on customer preferences.
Delticom centralized survey results from more than 40.000 customers from 15 European countries and created this index.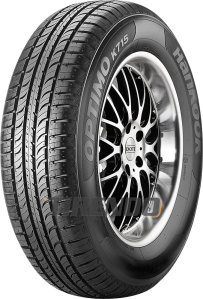 Please note: The tyres are delivered without rims
(The rim on the picture is for illustrative purposes only.)

Hankook
Optimo K715
145/70 R13 71T SBL
Type of Tyre
Summer tyres
Frequently bought together:
1 x Hankook Optimo K715 145/70 R13 71T SBL =

€ 48.30

1 x Castrol 5 Litre Canister =

€ 39.87
Description
EU Tyre Label:
Client reviews rating
Passenger car tyre, summer tyre
High performance tire
Owing to its, optimal profile Designs developed by computer simulation this tire offers optimal running properties and high travelling comfort. The optimized profile Design with straight grooves provides for high aquaplaning. The silica tread compound guarantees optimal brake behavior on dry and wet underground. Silica (silicic acid) provides as a component of the rubber mixture for a better wet adhesion of the tire. Beyond that this material affects run achievement and rolling friction positively.
What tyre size do you require?
The exact size of a tyre can be found on its sidewall.
The following chart shows you how to read a tyre size.
1. The width in mm
2. The height as the ratio between the width and the height in %
3. Construction type: "R"= radial (often seen), "D" or "-"= diagonal (rarely seen)
4. The required rim diameter (in inches) for this tyre
5. Load index
6. Speed index