Delticom efficiency index
The efficiency class label evaluated based on customer preferences.
Delticom centralized survey results from more than 40.000 customers from 15 European countries and created this index.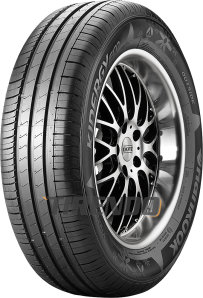 Please note: The tyres are delivered without rims
(The rim on the picture is for illustrative purposes only.)

Hankook
Kinergy Eco K425
155/70 R13 75T SBL
Type of Tyre
Summer tyres
Frequently bought together:
1 x Hankook Kinergy Eco K425 155/70 R13 75T SBL =

€ 47.20

1 x Castrol 5 Litre Canister =

€ 39.87
Description
EU Tyre Label:
Client reviews rating
Advantages:
Fuel efficient
Excellent driving comfort
Good compromise between security and durability
Tyre description:
Kinergy eco's Fuel Saving Technology was developed by combining new materials, such as nano-scale silica particles, using new mixing technology.

These technologies help improve both fuel efficiency and wet braking performance. This tire was designed to satisfy customers riding comfort as well as maximizing fuel efficiency.

This combination of comfort and efficiency was made possible through the use of Hankook's vibration control technology.
What tyre size do you require?
The exact size of a tyre can be found on its sidewall.
The following chart shows you how to read a tyre size.
1. The width in mm
2. The height as the ratio between the width and the height in %
3. Construction type: "R"= radial (often seen), "D" or "-"= diagonal (rarely seen)
4. The required rim diameter (in inches) for this tyre
5. Load index
6. Speed index